Social Links Widget
Click here to edit the Social Media Links settings. This text will not be visible on the front end.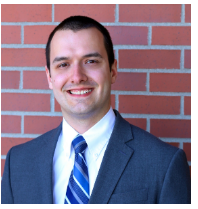 A key part of the home buying process is getting "pre-approved" by a lender.  Finding the perfect place with a great real estate agent doesn't do you a lot of good if you can't actually buy it!  Most real estate agents will make sure that you have a solid pre-approval in place from a quality lender before they take you on home tours (think of it as your "key" to home shopping), so starting the conversation early on with a lender you trust is critical.  I'd love to talk to you about what a pre-approval is, why it's not enough just to get the letter, and what characteristics you should be looking for in a lender.
What is a Pre-approval?
What is a "pre-approval"?  In short, a "pre-approval" is just a letter from a lender stating that based on their review of your financial information (your income, assets, and credit) that you should be able to be approved for a mortgage.  The amount of time and effort each lender puts in to making sure your pre-approval is thoroughly vetted and researched can vary dramatically.  A pre-approval letter is not a guarantee that your mortgage gets approved, so working with a lender who you trust to do a thorough job on the front end is critical.  Your real estate agent has likely dealt with a wide variety of different lenders, so ask them about who they trust.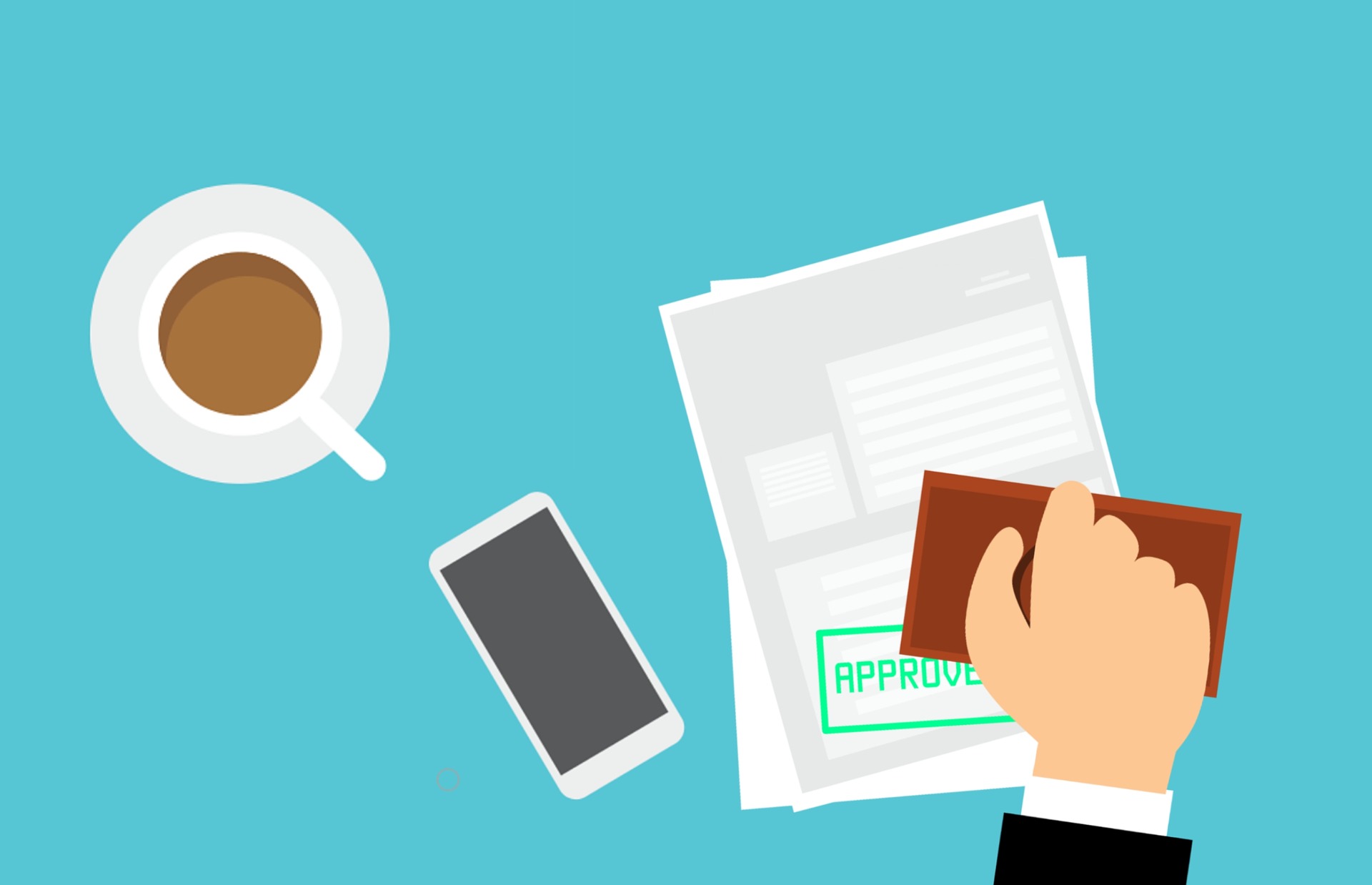 What are your goals?
Getting a pre-approval letter is great, but simply getting a letter saying you should be able to be approved for a mortgage isn't enough to make sure you're making a wise financial decision.  If you're working with a quality lender, they should be asking you questions about what your long and short-term financial goals are.  If you're not sure what your goals are, they should help you get clarity on them throughout the conversation.

Based on your goals, they should put together multiple strategies that are specific to your situation to review with you and help you compare each strategy.  They should teach you about how each one will play out over time and project the long-term impact of the decision on your overall financial picture.  Your mortgage is going to be your largest debt and will help you buy your largest asset (your home), so making sure your mortgage fits in to your goals is critical.
Written by Josh Gerard
Loan Officer
Churchill Mortgage
You can find Josh's reviews and contact info here.
Also, if you're interested about the other steps of the home buying process check out our other blog post "Grand Rapids Home Buying Process – Step by Step"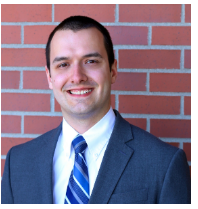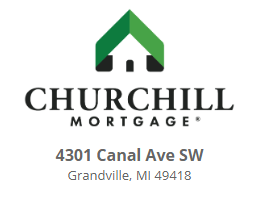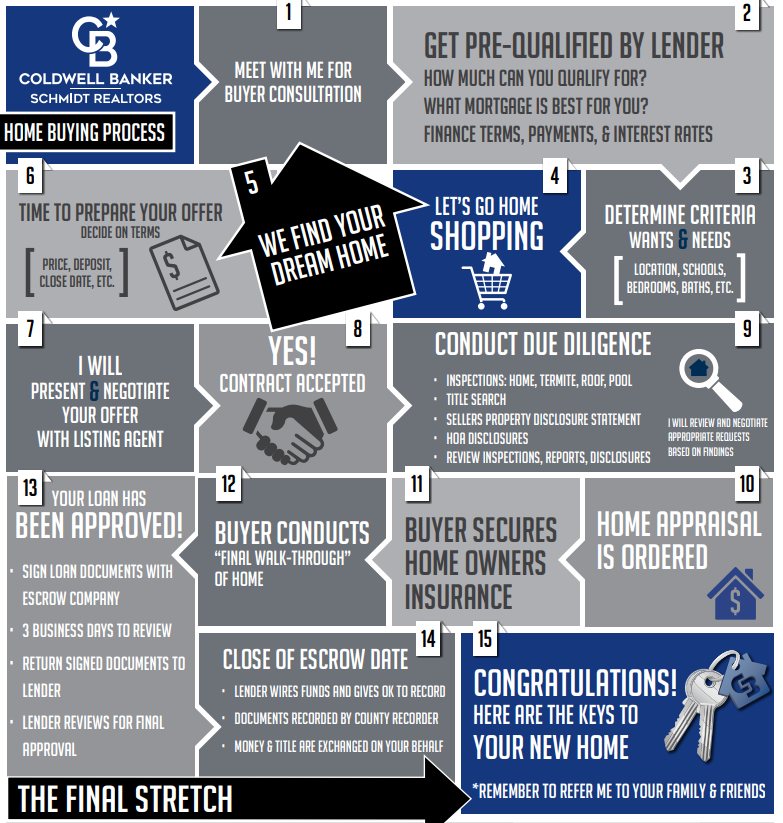 Home buying in Grand Rapids
Ready to start the process of Home buying in Grand Rapids, but a little confused on where to start? Whether you are a experienced buyer, or a first time home buyer this step by step guide should provide some helpful information.
Below you'll find an infographic that I provide to all my buyers at the initial buyer consultation meeting. It gives you a nice layout on all the steps you'll take during the home buying process. As a local realtor in Grand Rapids, MI I'm more than happy to answer any questions you may have on this process.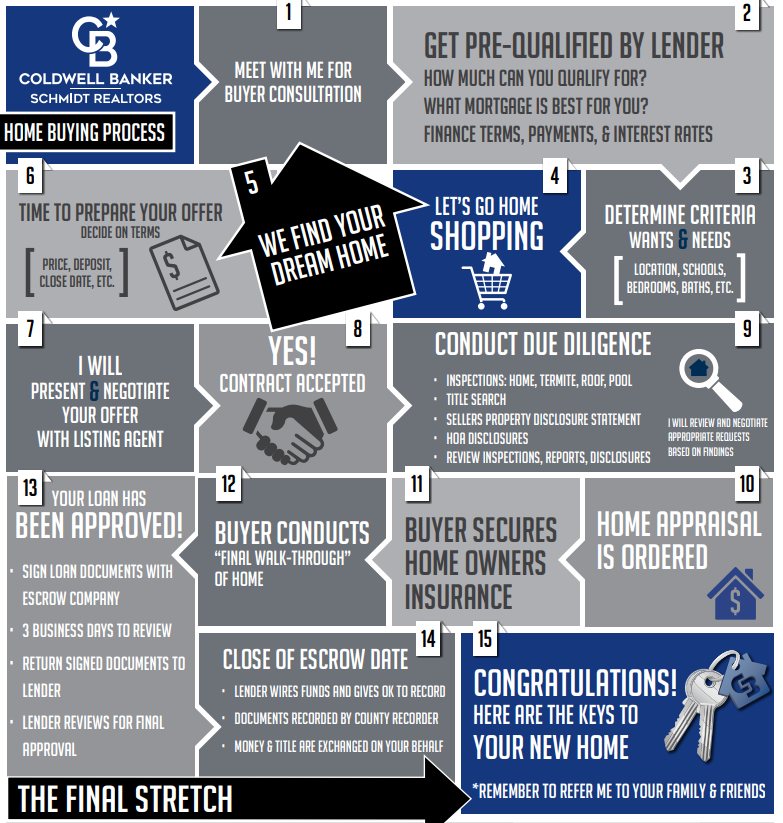 1. Meet with me for a buyer consultation.
The buyer consultation is the first step and for good reason. Consultations can be done in person, over the phone or over your favorite video program (zoom, messenger etc…). During this step we'll cover the step by step buying process, determine your timeline and most importantly answer any questions you have about the home buying process in Grand Rapids and the costs involved. Don't be afraid to ask LOTS of questions. My job as your agent is to educate you on the entire process, which in turn will help you to avoid the dreaded buyers remorse later on.
2. Get Pre-Approved by a LOCAL lender.
I capitalized local because I think it's very important to use a lender that is familiar with the Grand Rapids real estate market. I can definitely provide a good referral if you're looking for one. Each lender I refer is a lender I'd personally use for my own personal home. Top things to keep in mind here to to make sure the lender looks at your income to debt ratio, job history and credit score. I have another blog post here that covers more details on this step.
3. Determine Home Criteria.
Ok, so we've had our initial consultation, and you've knocked out the pre-approval. Awesome! Now that we have your budget to work in it's time to determine what criteria will define your dream home! We'll go through the usual suspects:
home size
style
school districts
number of bedrooms
number of bathrooms
BUT it also helps to answer the following questions… As your Real Estate Agent, these questions can help me dig in to your search results and zero in on those homes that would really be a good fit for you.
What do you need to have in a new home?
Why are you buying a new home?
What would you like in your new home,  but isn't mandatory?
What would cause you not to buy a home? (Power lines, corner lot, close to commercial etc…)
I also have a great home search tool you can use to see what's out there!
4. Time to GO Shopping!
Alright, so you've knocked out steps 1-4. If that perfect home pops up you'll be ready to make an offer. One thing that helps me as your agent during the shopping process is to let me know your normal availability. That way I can try my best to work in showings outside of your work schedule. Also, I highly recommend bringing a pad of paper and a pen along so that you can take notes. If we're viewing 3-4 houses in one day it's easy for them to all start to blend together. Take some time to write down what you like, and didn't like, about the home.
5, 6, 7, & 8 Locking down your Dream Home!
Great!  Now that we've found that perfect home that checks all your boxes in Grand Rapids, it's time to make an offer. The big question you're probably thinking is what price should we offer for this home? Thankfully I can dig into that for you and perform a CMA (comparative market analysis) to help determine the value of the home. There are many other factors here depending on the situation, market conditions, and if there is any other competition for the home. I have many strategies we can lean on to help you write the best possible offer, and still stay within your budget. Once your offer is written I will present it to the listing agent on your behalf.
9. Conduct Due Diligence.
Congrats!! Your offer was accepted, and now it's time for inspections. Typically in Michigan the standard inspection time frame is 10 days. Meaning any and all inspections you wish to do on the home need to be completed within that 10 day time frame. There are a lot of different types of inspections that you can have done on the home including:
Standard home inspections (inspection of mechanicals, foundation, roof, electrical, appliances and more)
Radon test
Termite inspection
Chimney inspection
and the list goes on… at a minimum, I typically advise a buyer to get a standard home inspections. I'm more than happy to provide some references for inspectors that my previous clients thought were top notch.
10. Home Appraisal is ordered.
Once you've spoken to your lender, and signed your mortgage application, the lender will order the home appraisal. The home appraisal is conducted by a third party. The appraiser's primary responsibility is to determine that the sale price, the buyer and seller have agreed to, is a fair price in the current market.
11, 12, 13 You're ALMOST there!
Communication is key here! Make sure that you're staying in communication with your lender and promptly returning any documentation that they are requesting. These steps typically involve:
Obtaining proof of home owners insurance
Signing all loan documents
providing any lender requested documents to verify employment history and transaction deposits.
The lender will review everything and issue their final approval, at which point you will have 3 days to review all the documentation before your closing can be scheduled!
14 & 15 closing time!
Alright! You made it. Now it's time for me to schedule your closing and coordinate with the title company and lender. Get ready to sign your name a lot. At close you'll sign all the title & lender documents.
Once all the documents have been signed, if the purchase agreement indicated you would receive possession at closing, you'll receive the keys to the property.  Congrats and enjoy your new home!
I hope that helps shed a little light on the process of home buying in Grand Rapids. If you have any more questions please feel free to reach out to me. I'd be happy to help.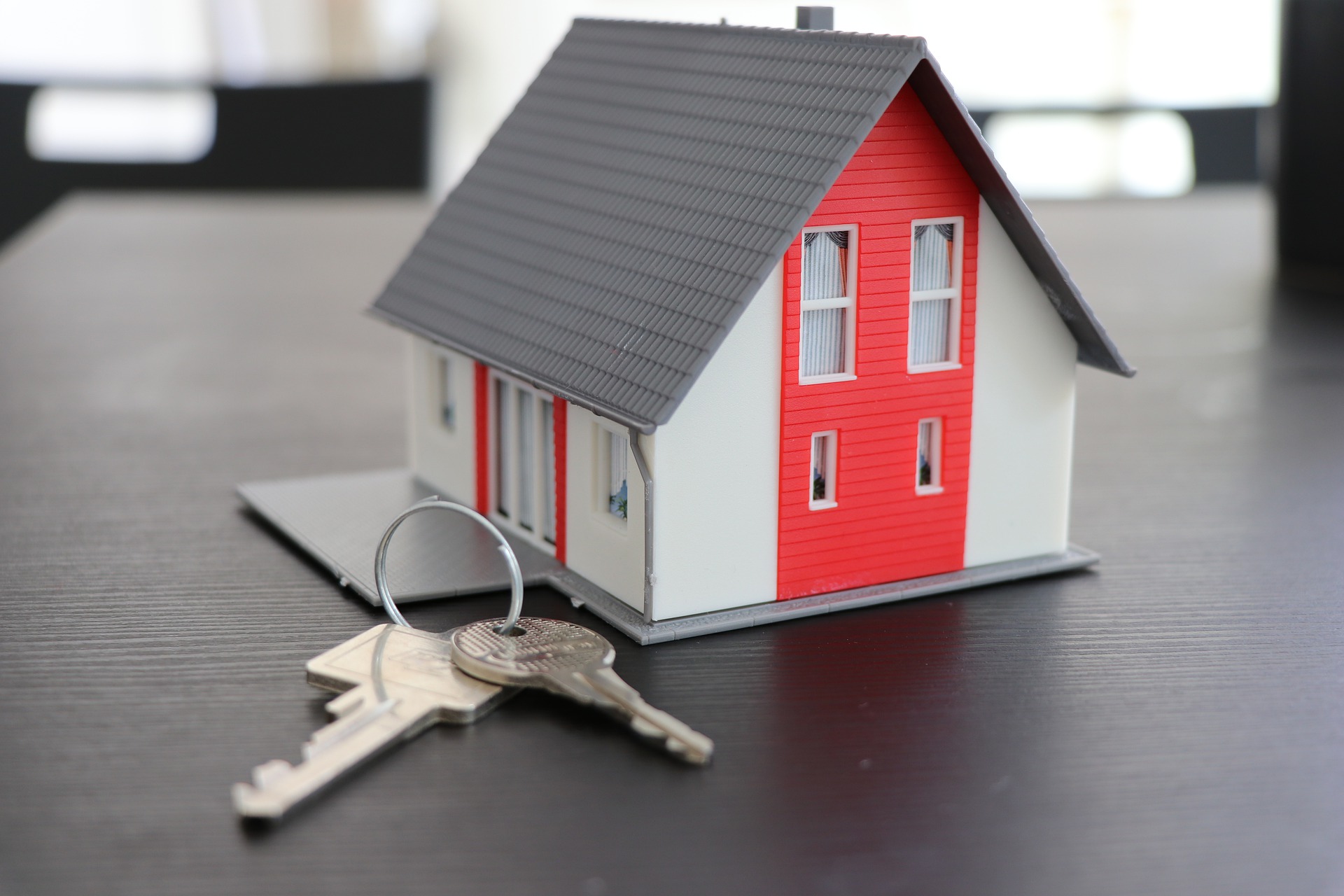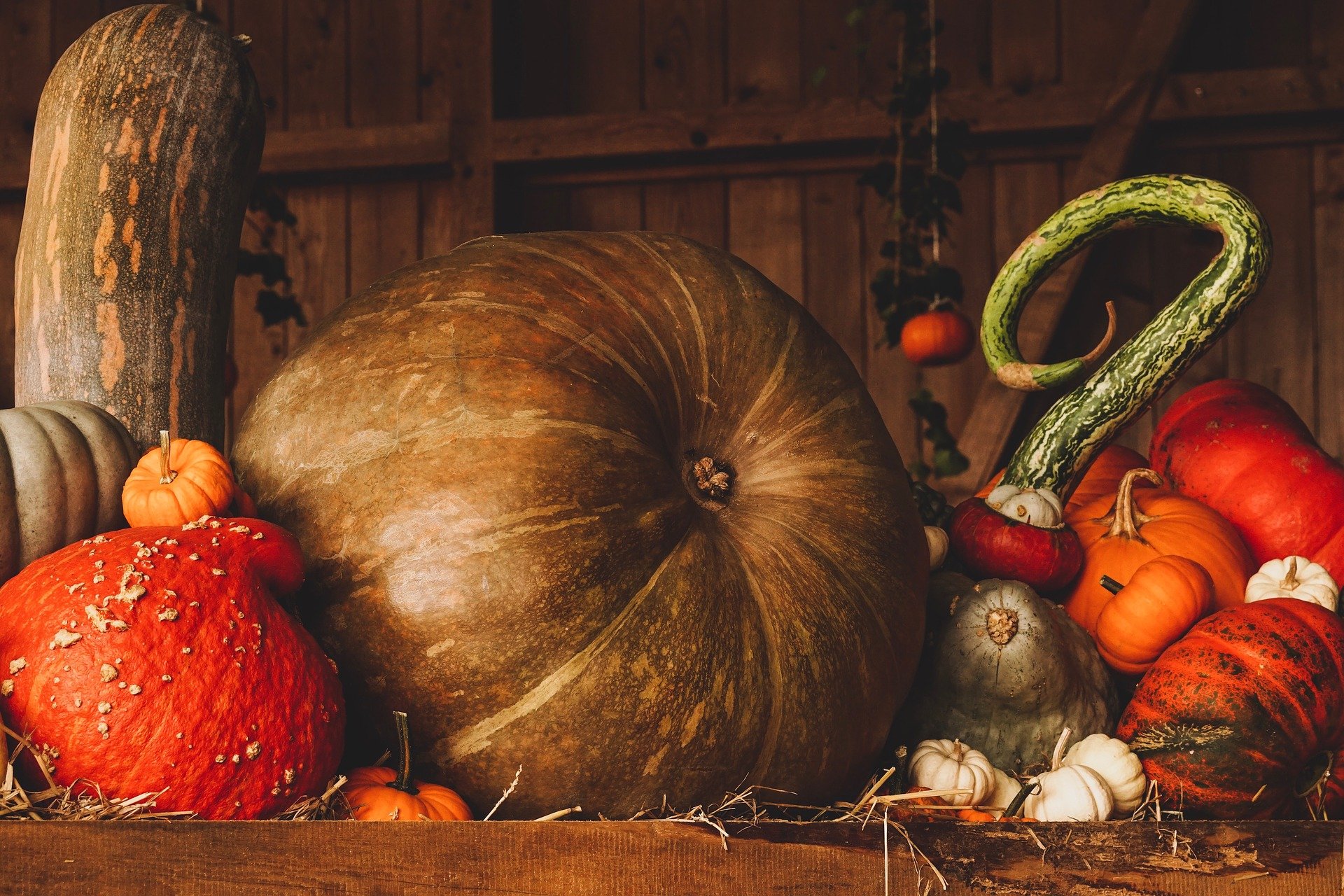 Grand Rapids Real Estate Market Update
​
  Happy Fall everyone! We've received many questions in the last month about the Grand Rapids real estate market, from both buyers and sellers. We wanted to start this newsletter off with some info that will hopefully shed some light on our current real estate market and in the end make you a more educated buyer or seller!
Home prices continue to trend up. As a result of low inventory and low interest rates. We did have a very small dip in May, which in our opinion is because of COVID & the lockdown. Once things started to slowly open up again, and buyers were released back into the market to physically see homes again, the average home price shot up about $10,000 between May and August. The New Listings chart shows us why values shot up again so quickly. Between February 2020 & now the number of new listings taken has drastically decreased.
If you're a (potential) seller this is great news for you! With a great strategy, the amount of potential exposure your home will receive from buyers will be huge!
If you're a buyer….Don't be discouraged! Even in this difficult climate we still work with buyers every day and continue to find them homes!
Months' Supply of Inventory MSI for short. MSI is used to answer the question:
  "If no new homes were to enter the market, how many months would it take to burn through all the homes currently available?"
Please note all charts below are interactive if you click on them. Also, don't forget to check out my customized home search.